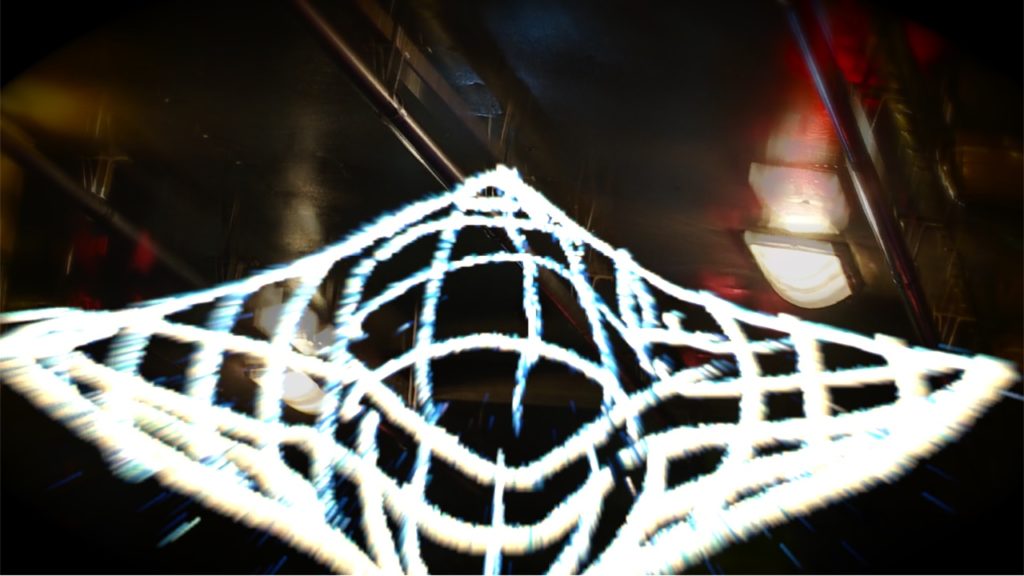 Visual Sound Live Performance
Time : November 12, 2016
Venue : Gudang Sarinah Ekosistem, Jakarta
Describe
A performance by Shinya Akutagawa with visual and audio as a medium in this performance. Live performance style installation (video and sound) Shinya is planing to have a live performance style installation with interactive devices, interactive video (art animation) and electronica sound with his hand-made instruments, traditional Asian instrument and MIDI keyboard.
Concept
"Golden triangle"
- Sitting, Walking, Standing, one was still bound to the earth
Shinya is impressed by Indonesian prominent novelist and poet, Iwan Simatupang's book, "Drought". On this book, protagonist decided to stay in remote place, from urban to local wasteland, he continues to dig the well under a harsh condition, drought. Iwan often refers the walking, standing, running, daily basis human activities through a half-mad nameless protagonist. He thought, Every modern crisis begins because someone sits down. There are too many people sitting down. ...More men must stand up. Their backbones must form a straight line with their heads and feet....at the moment standing man obeys sitting man. The old world is a world of sitting man...we must return to our former position. Standing. Drought, by Iwan Simatupang 
On this participatory art installation, Shinya will examine an important meaning on "walking, standing" in the city with audience. He set the hand-made interactive device which connects to video and sound. Audience's posture, movement –walking, standing, sitting – affects the project, with the wall text cited from Iwan Simatupang. Shinya's main concern on this project is an inequality in Indonesia: while Indonesia accomplished democratic politics,many Indonesians hoped that the era of reformasi would usher in not only more open and democratic politics, but also greater social equality. Such hopes have not been realised. Since Indonesia began its democratic transition in 1998, wealth inequality has increased significantly. The deepening social gap is associated with a capital flow into the rich, as well as stagnating income growth among poorer citizens. Democratic polity also introduces free-market system by neo-liberalism ideology; it's legitimate inequality by claiming that poor people are responsible for their own conditions and that the wealthy deserve their riches due to talent, hard work. Additionally, poor people accept "the rich are rich as a result of hard work, while the poor are poor because they are lazy", although there are factors why inequality has never been solved: a lack of opportunities, poor education and problematic inheritance right etc. These days many people all over the world are wondering every city is going to become so-called "generic city", city will lose the cultural aspects and human activities, people are to be just in a functional "place" like air-port, they measure their value on only one standard, "how
much money one keeps".
(partly cited from Edward Aspinall, Australian National University) 
Shinya Akutagawa, born in Fukuoka city, Japan in 1980, based on Bangkok, 
is an artist, working with artanimation, video, sound and installation and often combines interactive and 
architectural ideas with computer programming. 
Since 2012 his interest turned to several Asian countries in particular South East
Asia where he researched their 'post-modern' situations.
Akutagawa develops his concepts within the reaction between words and materials and sound that
investigates individual ideas and personalities under the influence of globalization and urban life. 
(now studying in Chulalongkorn University Southeast Asia Studies (international).
Music Performance
Time : November 12, 2016
Venue : Gudang Sarinah Ekosistem, Jakarta
Musician : Mataharibisu 
Started at September 2008, Mataharibisu was an alter-ego solo project that created by Aga Rasyidi with his ordinary desktop computer and some of music production software. In early days of his project, he just made some music compositions without any tendention and target, or whatever peoples called it "genre", but now he was concerning his music as Ambient-Electronic, with many kind of Influences ranging from Astronaut etc, Cokiyu, until SPC ECO.
After had been a solo project in the first month, Yudistira Abjani joined the band to fill the guitar department. With Yuda inside, Mataharibisu were given a new character with dreamy guitar layers and more soundscaping sounds.